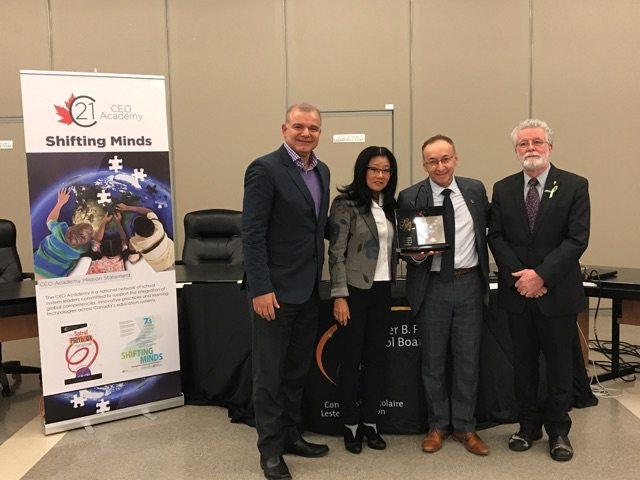 (L-R) Robert Martellacci, President, C21 Canada; Karen Yamada, Vice-President, C21 Canada; Michael Chechile, Director General, Lester B Pearson School Board, Noel Burke, Commissioner, LBPSB.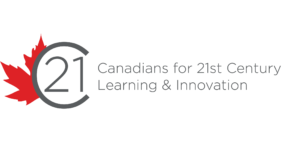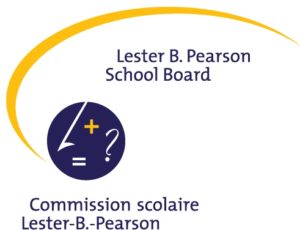 Montreal, QC, February 15th 2017 – It is with great pride that C21 Canada presents its Shifting Minds Learning and Innovation System Award to the Lester B. Pearson School Board.
The Lester B. Pearson Board of Commissioners in partnership with Director General, Michael Chechile had a vision that began with an idea for Digital Citizenship that has paved the way for global competencies that support a powerful culture of "Student Voice" through empowered learning.
"Lester B. Pearson School Board is emblematic of other past winners who have demonstrated excellence in innovative system-wide leadership practices worthy of national recognition, said Robert Martellacci, President & Co-founder, C21 Canada.  Past recipients include, Peel District School Board (Ontario) and Sun West School Division (Saskatchewan).
The Digital Citizenship Program became the inspiration for Quebec Ministry of Education resources supporting learning in the digital age. Chechile was responsible for bringing the first-ever Google Applications for Education Summit to Quebec.
"Michael's passion and vision has been instrumental in engaging our students in their learning, resulting in their successes and that's what we are all about – student success," said LBPSB Commissioner Stein Day. "His out-of-the-box thinking has greatly contributed to our ability to do more with less and this is an important, unique skill in today's reality.
"On behalf of the Lester B. Pearson School Board, we are deeply humbled and honoured to be recognized with this great honour, "Chechile said. "From its inception, I want to thank all LBPSB educators and administration for their collective vision to empower student learning with powerful instructional tools in a safe, child-centered real and digital learning environment."
Current collaborative practices of innovating teaching and learning, are creating collective "student voice" in students and educators that is transforming learning.
About Lester B. Pearson School Board
The Lester B. Pearson School Board is an English school board serving students and staff in 59 schools, adult and vocational centres, two International Language Centres, the Lester B. Pearson Vocational College, and an Administrative Centre on a territory from Verdun westward to the Ontario border.  The Lester B. Pearson School Board is recognized locally, nationally and internationally as a progressive and innovative public education institution.
About C21 Canada
C21 Canada is a national, not for profit organization that advocates for 21st Century models of learning in education. Their belief is that 21st century models of learning must be adopted in public education on an urgent basis to position Canadians for economic, social and personal success in the high skills, knowledge and innovation based economy.
###
For further information, contact:
Robert Martellacci, President & Co-founder
C21 Canada
M: 416-569-2106
robert.martellacci@c21canada.org
Karen Yamada, Vice President
C21 Canada
M: 416-569-2106
karen.yamada@c21canada.org