Shifting Minds is a national vision and framework for 21st century models of learning in Canada. Global leaders in education and other sectors of society have identified a number of competencies and skills that are now critical for personal and societal success in the knowledge and digital era. Founded on Seven Guiding Principles, the document serves as a guide for integrating these key competencies and skills into Canada's learning systems.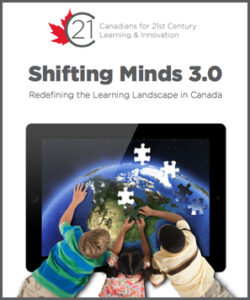 Shifting minds 3.0 – Redefining the Learning Landscape in Canada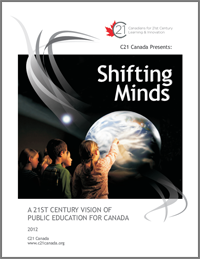 Shifting Minds: A 21st Century Vision of Public Education for Canada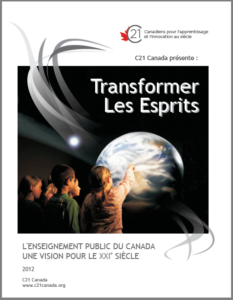 Transformer Les Esprits: L'Enseignement public du Canada une vision pour le XXIe siècle

COMPARISON OF SELECTED EXISTING 21ST CENTURY LEARNING FRAMEWORKS
OECD (2009)
P21 (2009)
BC (2010)
PEI (2010)
AB (2011)
SKILLS: knowledge and information literacy, numeracy; core subjects
Reading, Mathematical, Scientific literacy (PISA) Information Dimension: Use language, symbols and text interactively Communication Dimension: use knowledge and information interactively
Language Arts, World languages, Arts, Mathematics, Economics, Science, Geography, History, Government and Civics
Functional numeracy and literacy, communications and media literacy
 Literacy skills: Numeracy, reading, writing, media, technological, cultural STEM: science, technical, engineering and mathematics with the addition of the arts
Literacy and numeracy; Subject and discipline areas provide a context for developing competencies and opportunities for interdisciplinary learning
COMPETENCIES: functions and processes required to become literate and address increasingly complex life and work environments; learning skills
Interacting in heterogeneous groups: relating well to others, cooperation, managing and resolving conflict. Acting Autonomously: self-identify, set goals, take responsibility, act within the big picture, assert rights, interests, limits and needs
Creativity and innovation, critical thinking and problem solving, communication and collaboration, flexibility and adaptability, initiative and self-direction, social and cross-cultural skills, productivity and accountability, leadership and responsibility
Critical thinking and problem solving, creativity and innovation, collaboration and teamwork, personal organization, motivation, self-regulation and adaptability, ethics, civic responsibility, cross-cultural awareness
Learning and Innovation skills: Critical thinking, problem solving, analytical skills, synthesis, communications, creativity, risk taking. Life Skills: flexibility, adaptability, resilience, social, accountability, responsibility, interpersonal skills, citizenship
Critical thinking, problem solving and decision making, creativity and innovation, social, cultural, global and environmental responsibility, communication, collaboration and leadership, lifelong learning, personal management and well-being
ICT INTEGRATION: required to develop skills and competencies
Virtual groups support interaction, collaboration and feedback both in and out of school, video games
strengthen communication and collaboration, gaming supports strategic thinking, reflection and metacognition among peers
Access, evaluate and use information, analyze media and create media products, Apply ICT effectively and ethically
Technological literacy – thinking tools to amplify learning and improve productivity and work effectively in the knowledge economy. Research and information fluency, Digital citizenship, technology operations and concepts
Technology is a major factor in improving school life; it is an enabler rather than an end in itself
Digital and technological fluency: access, understand and manipulate information creatively and effectively for learning, sharing and creation, critically, safely and ethically
THEMES: interdisciplinary, social and global impacts; 21st century content
Ethics and social impact dimension: globalization and multiculturalism provide ethical challenges to develop skills and competencies;
Impact of ICT on social life and impact of actions on the environment
Global Awareness, Financial, Economic, Business and Entrepreneurial Literacy, Civic, Health and Environmental Literacy
Shifting roles: Passive student to active learner
Student-centred respecting gender, language, culture, ability. Project-based Learning to engage students in learning essential knowledge and life-enhancing skills through extended inquiry on authentic questions and carefully designed products and tasks.
Engaged thinking, ethical citizen with an entrepreneurial spirit
DRIVERS: Innovative pedagogy; teach in a 21st century context using 21st century tools, personalize learning, engage differentiated instruction and scaffolding, balance formative and summative assessment.
Learning science Pedagogy: constructivism, engaging in experiential learning and building on prior knowledge, differentiating instruction, reflection/
metacognition and scaffolding; access to diverse knowledge sources and explicit teaching of scaffolded skills by the teacher (2)
Emphasize deep understanding and learning skills, engage students in real world data, tools and experts, allow for multiple measures of mastery, use 21t century assessments that measure 21st century skills, portfolios, enable supportive technology, community resources, inquiry and higher order thinking
From… learning information to learning to learn, content-based system to skills-based system, one size fits all to tailored learning, testing to assess to assessing to learn, classroom learning to lifelong learning, teacher as lecturer to guide. Flexible path with project-based or integrated learning
Enhance student-centred culture; Teacher engagement and heightened civility. Enhance teacher excellence and toolkits through leadership, engagement, experiential, hands-on project-centred options. New models of assessing learner success. Role change for teachers from sources of knowledge to facilitators of learning. Empower creativity.
The student is at the centre of all decisions and discussions related to curriculum. Inclusive and safe schools, relevant and engaging, setting students up for success (FNMI)
REFERENCES:
1. Ananiadou, K and Claro, M. (2009) "21st Century Skills and Competencies for New Millennium Learners in OECD Countries", OECD Educational Working Papers, No. 41, OECD Publishing, http://dx.doi.org/10.1787/218525261154
2. Centre for Educational Research and Innovation (May 2008) "21st Century Learning: Research Innovation and Policy Directions from recent OECD analyses", OECD Publishing http://www.oecd.org/dataoecd/39/8/40554299.pdf
3. United States Department of Education and Partnership for 21st Century Skills, Learning for the 21st Century A Report and Mile Guide for 21st Century Skills, (2009) http://www.p21.org/overview/skills-framework
4. Premier's Technology Council (PTC) A Vision for 21st Century Education, December 2010 http://www.gov.bc.ca/premier/technology_council/
5. Proceedings of the Minister's Summit on Learning, June 4 and 5, 2010, Department of Education, http://www.gov.pe.ca/eecd/index.php3?number=1035077&lang=E
6. Framework for Student Learning Competencies for Engaged Thinkers and Ethical Citizens with an Entrepreneurial Spirit, Government of Alberta, http://education.alberta.ca/department/ipr/curriculum/framework.aspx
The Government of Canada in its Throne and Budget Speech on March 3, 2010 has committed to a multi-year Digital Economy Strategy to accelerate the adoption of digital technologies critical to our economy and society.  Industry Canada in its Consultation Paper calls for the intelligent use of digital technologies and the shift towards next generation and broadband infrastructure networks to support innovation and remote and rural needs.  The Government of Canada has renewed a suite of programs to develop language and culture using social networking and the creative process in film, music, and digital media and publishing.
Industry Canada, Improving Canada's Digital Advantage Strategies for Sustainable Prosperity Consultation Paper on a Digital Economy Strategy for Canada, http://de-en.gc.ca/consultation-paper/
Industry Canada identifies science, technology and innovation as critical to Canada's economic development and social well-being, providing benchmarked evidence of the country's performance internationally. The business plan and budget place priority on the need to attract and retain world-class students and researchers and to provide the research tools and infrastructure to grow Canada's capacity for innovation.  Industry Canada identifies among its strategic enablers – people management, stewardship, management of information and technology along with communications and engagement.
Industry Canada, Industry Canada Business Plan 2011-12, www.ic.gc.ca/businessplan
Budget 2011 continued support of Canada's Digital Economy Strategy is the latest in a series of legislative and program initiatives, reflecting the Government's commitment to the digital economy. It provides a framework to encourage the private sector to adopt new technologies for the workforce of tomorrow. The National Research Council's Digital Technology Adoption Pilot Program is set to assist Canada's overall productivity and create market growth and opportunity.  Funding is also available to colleges to deliver services and expertise to small and medium sized businesses.
National Research Council, Government of Canada invests in Canadian business innovation Making Canada a global leader in the digital economy, November 14, 2011, http://www.nrc-cnrc.gc.ca/eng/news/nrc/2011/11/14/dtapp-nr.html
Human Resources and Skills Development Canada (HRSDC) in reaching its mandate to improve the literacy and essential skills of adult Canadians, the 2010 – 2011 Consultation Report on HRSDC's Suite of Literacy and Essential Skills Tools determined nine 21st century reading, writing, document use and numeracy skills common in fulfilling workplace needs. The Office of Literacy and Essential Skills (OELS) in its Literacy and Essential Skills has created and disseminated a set of developmental tools to support stakeholder policies and staff training needs.
Human Resources and Skills Development Canada, Consultation Report on HRSDC's Suite of Literacy and Essential Skills Tools, http://www.hrsdc.gc.ca/eng/consultations/reports/les.shtml
Human Resources and Skills Development Canada, Literacy and Essential Skills, August 2010, http://www.hrsdc.gc.ca/eng/workplaceskills/LES/index.shtml
The Canadian Council on Learning (CCL) claims Canadians are slipping down the international learning curve over the failure of provincial, territorial and federal governments to work together.  As the CCL prepares to conclude its operation, it advocates the need for a national learning framework with a sustained trans-Canadian approach along with a mission, vision and model to unite Canadians in a common purpose.  The vision of CCL was to link Canadians in sharing learning experiences promoting the enhancement of learning as a core value of a distinctive Canadian society.  The CCL survey of attitudes towards learning reinforces the belief by Canadians that learning is the single greatest factor in individual and collective success and urges the need for leadership from organizations such as the Council of Ministers of Education.
Canadian Council on Learning (CCL), What is the Future of Learning in Canada, October 2011
http://www.ccl-cca.ca/CCL/AboutCCL/PresidentCEO/20111011FutureLearning.html
Canadian School Boards Association in its priorities for 2011 – 12 identifies the integration of emerging technologies into teaching and learning in Canadian classrooms, the creation of policy to promote classroom and community/industry connections, sustainability and partnerships and the promotion of research-based practices in Canadian classrooms that develop 21st century learning skills in areas such as literacy, communication, collaboration, critical-thinking and problem solving. Canadian School Boards Association, Priorities 2011 – 2012, http://cdnsba.org/advocacy/priorities
Council of Ministers of Education at its 96th meeting began to discuss the global movement to integrate 21st century competencies in public education and determine what they could do to advance 21st century learning models in Canada. Ministers agreed on Canada's key priorities on four themes for upcoming OECD discussions, including equipping teachers for the 21st century and matching skills to new needs.  The CMEC 99th meeting focused on the progress of its Learn Canada 2020 joint 2008 declaration and guiding document.   Ministers received information from the Canadian School Boards Association about its priorities for 21st century learning and shared how provinces and territories are addressing the skills.
Council of Ministers of Education, Canada's Ministers of Education Advance Learn Canada 2020 Priorities, Winnipeg, September 24, 2010 http://www.cmec.ca/Press/2010/Pages/2010-09-24-2020.aspx
Council of Ministers of Education, Canada's Ministers of Education Move Ahead on Pan Canadian Priorities, Toronto, February 23, 2011 http://www.cmec.ca/Press/2011/Pages/2011-02-23.aspx
BRITISH COLUMBIA: The Liberal government identifies key priorities of job creation, families first and leading an "open data" platform in preparing students for jobs of tomorrow. "Regular town hall meetings" and social media offer a voice to British Columbians to inform the work of government in creating a strong economy to unify diverse family needs.
The Premier's Technology Council (PTC) offers an ideal vision for transformational change elements required by its education system in meeting the urgent needs of a knowledge-based society.   Skills and attributes for the 21st century are identified along with transformations required to current practices, systems and roles.
Premier's Technology Council (PTC) A Vision for 21st Century Education, December 2010 http://www.gov.bc.ca/premier/technology_council/
ALBERTA: Education is identified as a priority of a Conservative government as Alberta heads into an election in 2012.  Revised education legislation following the first reading of Bill 18, A 21st Century Transformation is built on a series of initiatives driven by 21st century competencies and foundations.  November 2011 to January 2012 public consultations, written letters and provocations using social media reflect a strong emphasis on 21st century key elements and processes for a new legislation to govern Kindergarten to graduation.
Government of Alberta, Our Children Our Future Getting it Right, Education Act Session Pre-reading 11.21.11,
http://ideas.education.alberta.ca/engage/current-initiatives/education-act-getting-it-right
In its steering committee report on Inspiring Action on Education April 2010, Alberta Education presses for a vision that describes how educate Albertans see themselves in the future, as engaged thinkers and ethical citizens with an entrepreneurial spirit. A shift in education requires a focus on learners, core 21st century competencies and technology to support the creation and sharing of knowledge along with an understanding that education expands beyond the school.
Government of Alberta, Inspiring Education:  A Dialogue with Albertans Steering Committee Report Committee Report to the Minister of Education, June 2010. http://www.inspiringeducation.alberta.ca/
The Discussion Paper, We Engage Engager provided the rationale for the vision, values and principles along with definitions of the core competencies along with a visual of the 21st century framework.
Government of Alberta, Inspiring Action on Education We Engage Engager, June 2010.
http://ideas.education.alberta.ca/engage/current-initiatives/education-act-getting-it-right
Alberta Education's Curriculum Redesign initiative presents a Framework for Student Learning articulating 21st century outcomes along with standards, guidelines and an articulated process for curriculum design, engagement, and implementation.  The framework presents a circular model defining the relationships between subject disciplines essential for students to achieve the "Three Es: Engaged Thinkers and Ethical Citizens with an Entrepreneurial Spirit" placing the student at the centre of the decision-making, and providing "I" statement indicators for achievement.
Government of Alberta, Framework for Student Learning Competencies for Engaged Thinkers and Ethical Citizens with an Entrepreneurial Spirit, http://education.alberta.ca/department/ipr/curriculum/framework.aspx
Stakeholder consultations on the student learning framework focused on key concepts around three common understandings; One:  Literacy, numeracy and interdisciplinary learning, Two:  Ways of Knowing, Student centred, personalized learning, and Three:  Flexible timing and pacing in a variety of learning environments and Assessment.  Stakeholders included the Alberta Teachers Association, Alberta School Councils and School Boards, Alberta School Superintendents, First Nations, Metis and Inuit and other education and community members.
Government of Alberta, Summary of Findings Research Roundtables 1, 2 and 3, http://education.alberta.ca/department/ipr/curriculum/engagement.aspx
MANITOBA:  The recently re-elected NDP Government in its October 2011 throne speech, committed to the modernization of school facilities including science labs, gyms, shop equipment, increased internet broadband access to rural divisions and a new skills and technology centre.  The Action Plan for Science Education is a department initiative to encourage student engagement and professional development through a 21st century approach to science learning.  Partnership initiatives, including the St. Boniface General Hospital Research Foundation along with funding opportunities are cited.
Manitoba Education, An Action Plan for Science Education in Manitoba, http://www.edu.gov.mb.ca/k12/cur/science/action_plan/index.html
ONTARIO:  The Ontario government throne speech makes no specific reference to 21st century skills or competencies, but Premier Dalton places priority on maintaining Ontario's schools as the best in the English speaking world with its recent move to full day kindergarten.   Ontario students are among the highest achievers in the country, crediting smaller class sizes, family literacy centres and online tutoring.  Its plan is to build the best-educated workforce in the world.
Government of Ontario, Ontario Students Lead the Way, http://news.ontario.ca/edu/en/2011/11/ontario-students-lead-the-way.html
The Ontario Ministry of Education hosted more than 600 delegates representing every level and sector of education from 8 countries gathered at the "Whole System Reform Summit."  Co-chairs, Sir Michael Barber and Michael Fullan summarized key issues along with an overview grid of contexts, goals and actions of 5 jurisdictional case studies presented.   They identify "21st –century skills," "soft skills," well-rounded education," or broad definitions of literacy and numeracy common to jurisdictional action, along with an aim to put more focus on individual students, engagement and needs.  Barber and Fullan offered debate over 4 tensions; assessment, curriculum, merit pay and autonomy, identifying 3 challenges:  7 key components to system reform, deliberate practice, and centralized versus decentralized autonomy.  They recommend a path of starting contexts, concrete pathways to success and clustered interventions.
Michael Fullan and Sir Michael Barber, Co-chairs, Final Report for the Building Blocks for Education Whole System Reform September 13-14, 2010 Toronto, Ontario,  http://www.edu.gov.on.ca/bb4e/materials.html
Catherine Fife, President of the OPSBA, identifies that the challenge is about what learning should look like in 21st century classrooms.  What is missing is a provincial vision that describes how technology can be used to: promote innovative thinking and collaborative work; incorporate rich digital resources into student learning; employ varied assessment methods to improve learning; model ethical practices in the digital age and strengthen professional development.  The OPSBA calls for continued review of the Discussion Paper What if? Technology in the 21st Century Classroom with the province to address the question of how schools can be connected and relevant for students in a global community and to explore the relationship between using technology and enhancing the teaching and learning process.
Ontario Public School Boards Association, The Debate on Banning Cell Phone Misses the Mark, September 16, 2010, http://www.opsba.org/index.php?q=news/the_debate_on_banning_cell_phones_misses_the_mark
Ontario Public School Boards Association, What if? Technology in the 21st Century Classroom, April 29, 2009, http://www.opsba.org/index.php?q=news/what_if_technology_in_the_21st_century_classroom
Jenson, Taylor and Fisher report that despite massive investments, there is little evidence of its impact on student achievement.  Research points to inconsistent and inconsequential implementation of ICT to advance 21st century skills.   Technology continues to be used primarily for administration rather than instruction; there is little systematic professional development for pre-service or in-service teachers on ICT-based instruction and few accountability measures exist for reporting on teachers' efforts to integrate ICE in instruction; initially cited by Larry Cuban in his 2001 publication of Oversold and Underused:  Computers in the Classroom.
Jenson, Taylor and Fisher, Critical Review and Analysis of the Issue of "Skills, Technology and Learning", Faculty of Education, York University. http://www.opsba.org/index.php?q=advocacy_and_action/technology_in_teaching_and_learning   JensonFinalReport.pdf
QUEBEC has identified economic development as a major priority along with health, family and sustainable development.  The Department of Education and Sport will see an increase in funding with all schools (90%) receiving interactive display boards, teaching materials and teacher training.
Government of Quebec, 2011 to 2012 Budget Speech, http://www.budget.finances.gouv.qc.ca/Budget/2010-2011/index_en.asp
NEW BRUNSWICK:  The government in its throne speech identifies a need to create a new foundation to address a shifting population, the expectations of new standards and technology and economic development strategies through public-sector engagement.  Public consultations began on January 11, 2012, guided by Learning Everybody's Project founded on four pillars of learning to know, to do, to live together and to be, each containing skill competencies for learning at home, at school, at work, in the community.   Standards and guidelines for beginning teachers reflect the province's shift in public education to a 21 Century model of learning.
Government of New Brunswick, Throne Speech 2011, http://www2.gnb.ca/content/gnb/en.html
Government of New Brunswick, Learning Everybody's Project, http://www.learninginnb.ca
Department of Education and Early Childhood, 21st Century Standards of Practice for Beginning Teachers in New Brunswick, http://www.gnb.ca/0000/pub-e.asp
NOVA SCOTIA:  The Minister of Education's September 2, 2011 opening school day message focused on cyber bullying and the fight for safety on the internet and mobile devices.  The government's support for literacy intervention support and family services was noted.  The Department of Education in its Statement of Mandate proposes to work with local boards to improve student engagement, positive school culture in addition to working with the Nova Scotia Educational Leadership Consortium to develop principals in supporting effective instruction.
Government of Nova Scotia, Department of Education Statement of Mandate 2011 – 2012 http://www.ednet.ns.ca/business_plans.shtml?id=1
PRINCE EDWARD ISLAND: The Liberal government credits its full-day kindergarten and increasing attendance in post secondary education as indicators of social success.  Its platform goal for education is to offer young learners the best tools in a changing world.
Liberal Party Policy Platform, September 2011 http://www.movingforwardpei.ca/news/79/72/Liberal-Policy-Platform/
The Minister of Education invited 250 education, business and community leaders, parents and students to gather ideas, direction and commitment what Island learners require in order to be successful in the 21st Century.  Consensus points included:   identifies an emphasis on student-centred Project Based Learning.  Relationships are credited as key in sustaining learning and a model is suggested to involve community, school and social contacts, home and family, and students. 24 themes grouped in three skill categories:  learning, literacy and life were presented by Charles Fadal from his book 21st Century Skills.
Government of Prince Edward Island, Proceedings of the Minister's Summit on Learning, June 4 and 5, 2010, Department of Education, http://www.gov.pe.ca/eecd/index.php3?number=1035077&lang=E
NEWFOUNDLAND:   The Speech from the Throne pledges additional budget support for technology resources to support 21st century learning, along with investments in infrastructure and programming to tailor teaching to diverse student needs.  The Department of Education makes no direct statement to address 21st century learning in its identification of 4 strategic enhancement issues for inclusive social and economic success:  early childhood and select Kindergarten to Grade 12 enhancements, post-secondary programs and skilled trade training, infrastructure improvements across all levels and increased access to literacy learning opportunities for adults.
Government of Newfoundland, Department of Education 2011-2013 Strategic Plan, April 29, 2011.
http://www.exec.gov.nl.ca/thronespeech/2011/speech2011.htm#newways
YUKON:   In its third mandate, the Government of the Yukon directs its support to early learning and parenting support along with along with meeting the demand for more educational facilities and training programs to train Yukoners for Yukon opportunities.  The Department's Strategic Plan offers recommendations for the structure and delivery of experiential education as well equitable access of programs to all students addressing gaps in learning among males and females and First Nation and non-First Nation students.  Professional Development for educational assistants, teachers and administrators in best-practices and practical skill development and alignment to resources is a priority.
Government of Yukon, Speech from the Throne, December 01, 2011, http://www.yukonpremier.ca/
Yukon Department of Education, Department of Education Strategic Plan 2011 – 2016:  Our Commitment to New Horizons, http://www.education.gov.yk.ca/psb/strategic_plan.html
NORTHWEST TERRITORIES:  The 2011 – 2012 budget provides support to educational opportunities for students including volunteer and leadership development opportunities such as public speaking and Youth Ambassador Programs.  A commitment is made to increase the number of Aboriginal teachers and language and culture teachers to confirm beliefs about student success.
Government of the Northwest Territories, The Budget Address, http://www.fin.gov.nt.ca/address/index.htm
NUNAVUT: The government of Nunavut, in its deficit budget, struggles to address poverty needs, housing and provide support to an education system which keeps its students in school.
Government of Nunavut, 2011 – 2012 Budget Address, http://www.gov.nu.ca/en/PDocuments.aspx