Toronto, ON, June 8th 2016 – Today's launch of Shifting Minds 4.0: Shifting Systems for Learning and Innovation features a simultaneous virtual  release on the C21 Canada website and live on –location at the Schulich School of Business at York University at 12:45 PM.
The work continues as C21 Canada develops tools and resources for school-wide and system-wide indicators of change and growth. Today's launch of Shifting Minds 4.0: Shifting Systems for Learning and Innovation offers new ways to empower change in your organization. "Ongoing sharing by CEO Academy leaders about system-wide scaling across the country has led to resources that encourage collaborative inquiry and honour local diversity needs," says Karen Yamada, Vice-President & CFO, C21 Canada.
"C21 Canada provides a forum for education leaders to share ideas and build the capacity for system-wide transformation," says Robert Martellacci, President & Co-Founder, C21 Canada. The seminal report, Shifting Minds 1.0: A 21st Century Vision of Public Education for Canada (2012) identified 7 competencies for leading and learning in the 21st century:  creativity, critical thinking, collaboration, communication, character, culture and citizenship and computer and digital technologies.
Shifting Minds 3.0: Redefining the Learning Landscape in Canada (2015) proposed a shift from traditional policy-driven systems toward networks of strong responsive schools with educators collaborating continuously.  Six system drivers were identified that can enable the transformation or hold it back: curriculum, assessment, pedagogies, learning environments, governance and community engagement.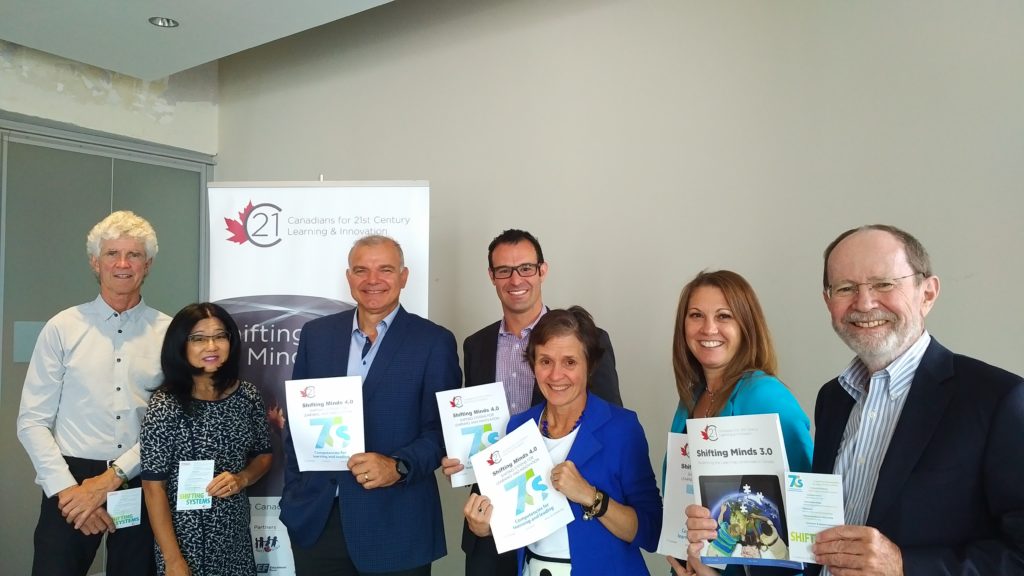 About C21 Canada
C21 Canada is a national, not for profit organization that advocates for system-wide scaling of
Learning and Innovation.  This transformation in education is needed on an urgent basis to position Canadians for economic, social and personal success in the high skills, knowledge and innovation-based economy. 
###
For more information contact: 
Robert Martellacci, President &  Co-­Founder
robert.martellacci@c21canada.org 
www.c21canada.org